What Makes a Cleanroom Sticky Mat Frame Essential?
The pulls and tugs of carts, mops, garments, shoe covers, and other traffic sometimes override the floor grip of an adhesive mounted sticky mat. The result is a mat that pulls-up, deforms, shifts, folds or doesn't remove particulate evenly.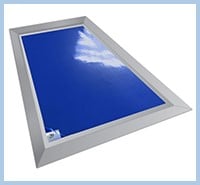 How Do We End Sticky Mat Woes?
Carpet, concrete, grimy, oily, damp or temporary walkways often yield unreliable or inconsistent adhesion for floor mounted tack mats. Sticky mat frames provide a movable base and non-skid backing for mounting or moving adhesive floor mats without the limitations of mats secured directly to the floor.
Keep Your Floor Layouts Responsive
Get the flexibility of 18″ x 36″ up to 36″ x 72″ frame sizes for greater flexibility and minimal interference when your location or application changes including cleanroom entrances, offices, warehouses, manufacturing sites, hospitals, construction sites and more.